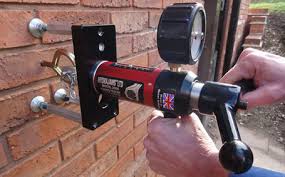 Rope access anchor and safety harness anchor points are also required to be thoroughly examined and inspected by a competent person on a regular basis to confirm that they meet the legal requirement for these types of anchors.

Rope Task provide a pull out testing service throughout the UK and have medium and heavy duty HYDRAJAWS industry standard testing equipment that can be used for shear testing, surface bond testing, stress testing, anchor bolt testing and load testing on a variety of fixings for construction companies, facilities managers and building owners that require regular testing of safety critical fixings.

Thorough inspection reports and site specific testing reports are provided along with detailed method statements and risk assessments for each individual load test. Rope Task also have the capacity for in-house testing of specialist items. Our team are experienced and trained in the use of HYDRAJAWS equipment, have LEEA inspection qualifications and are members of the CFA, Construction Fixings Association as approved testers.

Difficult to access testing is a specialist area that Rope Task excel in. As IRATA approved technicians we use specialist rope access techniques to access, load test and record pull out testing data on remote equipment that cannot be reached by many other testing companies.


We install and test the following equipment ...