Essential is the correct choice of equipment to protect people against the risk of falls from height, collective control measures such as fixed handrails, temporary or folding barriers can be supplied, single point anchor points, horizontal safety lines, roof anchors and fixed access ladders are all solutions that Rope Task supply and install to protect against falls from height during rooftop access.

Height safety audits of your premises are carried out and then solutions are presented to the client that will offer a safe workplace and risk free work at height area for people to access and work in. Rope Task will then install, test and certify that all installed equipment meets the manufacturers installation guidelines and all EN standards.

Rope Task can also supply and install temporary leading edge protection for construction sites to protect workers who have to access the edge of floor slabs during the construction phase, such as curtain wall installers and glazing fixers.

Training in the use of height safety equipment and essential rescue from height of a fallen worker is also essential for persons working at height. Our director Haydn Gamble has over 18 years experience of working at height, including many years of rescue from height experience that allows him to offer you on site fall protection essential training.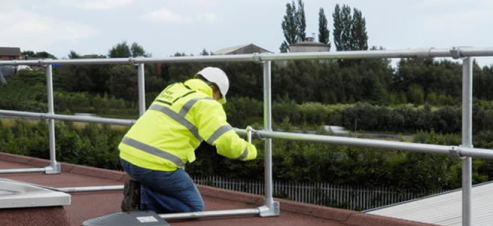 Roof Top Access
Fall Protection Awareness
Use of Fall Arrest Harness & Lanyards
Use of Installed Fall Protection Equipment
On Site Rescue

Related Fall Protection Documents ...